Karima Grant
Founder and Director, ImagiNation Afrika

Senegal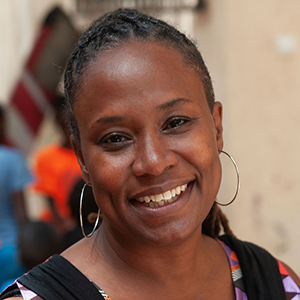 Karima Grant is the founder and Director of ImagiNation Afrika, a social enterprise dedicated to building the capacity of the ecosystem around children in West Africa. ImagiNation Afrika works for the development of the entire child by creating public spaces dedicated to the child, collaborating with institutions that nourish child development and accompanying parents and communities, to build an ecosystem that allows African children to thrive and take the lead in the 21st century.
In 2016, Karima Grant founded Ker ImagiNation, a children's learning and innovation hub dedicated to play-based learning for children aged 6 months to 12 years. To date, Ker ImagiNation has welcomed more than 15,000 children and their families and created internationally renowned children's exhibitions, including exhibitions for the 2018 Dak'Art Biennale. In 2019, Ker Imagination received the European Museums Association's Best Children in Museums Award. Ker Imagination and ImagiNation Afrika's work has been profiled in several media outlets including the Washington Post and Le Monde. In 2018, with partner institutions, Play Africa in South Africa, and the Mmofra Foundation, Karima co-founded the African Play Network, a network of play based spaces and institutions dedicated to both creative learning across the African continent.
ImagiNation Afrika's work has been profiled and highlighted on a number of international forums, including the Brookings Institute, WISE, the Global Partnership for Education, the African Early Childhood Network, and the Lego Ideas conference.
In 2019, Karima was invited to speak by the Moroccan government on Imagination's Afrika's innovative approach to play based learning at the inauguration of the National Initiative for Human Development (INDH). In 2019, Karima co-founded and piloted the Les Playlabs, a chain of high-quality, play-based infant toddler and preschool programs dedicated to promoting and facilitating creative thinking. She has designed, co-created and facilitated programs, workshops, classes and teams on three continents and has written two children's picture books and contributed to a number of anthologies for young adults. She is a 2016 Ashoka Re-Imagine Learning Fellow.