Karima Grant
Founder & Director, ImagiNation Afrika
Co-Founder, Ker ImagiNation

Senegal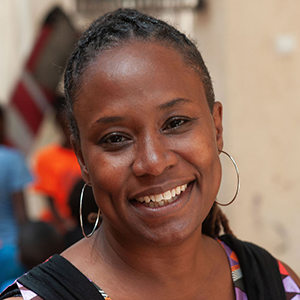 A 2016 Ashoka Re-Imagine Learning Fellow, Karima Grant is the founder and Director of ImagiNation Afrika and co-founder of Ker Imagination Educational Services. 
ImagiNation Afrika improves the development of children by collaborating with institutions that nourish youth development and building an ecosystem that allows African children to thrive in the 21st century. In 2016, Karima Grant opened Ker ImagiNation, dedicated to play-based learning for children aged 6 months to 12 years. To date, Ker ImagiNation has welcomed more than 15,000 children and their families and created children's exhibitions, notably for the 2018 Dak'Art Biennale. In 2019, Ker Imagination received the European Museums Association's Best Children in Museums Award. Rama and Aicha, an animated short series produced by Ker Imagination, won the Public Choice award at the 2021 Vues D'Afrique Film Festival. 
In 2019, Karima co-founded Ker Imagination Educational Services to support working African parents and their families. Such services include Les Playlabs, Senegal's first chain of high-quality, play-based infant and preschool programs. Karima has designed, co-created and facilitated leadership programs, workshops and classes on three continents and has written four children's picture books and contributed to a number of anthologies for young adults.