Dr. Khalid Klefeekh Al Hajri
Chairman and CEO, Qatar Solar Technologies

Qatar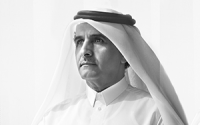 Dr Khalid Klefeekh Al Hajri is the Chairman and CEO of Qatar Solar Technologies (QSTec), Vice-Chairman and Managing Director of Qatar Solar, a Qatar Foundation company established to invest in solar technologies and initiatives. He is a board member of SolarWorld AG and Centrotherm AG.
Dr. Al Hajri was formerly the General Manager of the Qatar Chamber of Commerce and Industry (QCCI), responsible for the promotion of Qatar and Qatari businesses in global markets. This dynamic role included developing strategies to open new business opportunities for Qatar, streamlining business processes to gain greater workplace efficiencies. He played a major role in strengthening the QCCI's ties with their international business council counterparts.
Dr. Al Hajri has over 30 years of senior management and executive experience working in some of Qatar's largest and most progressive energy companies.
Dr. Hajri is also a member of the Industrial Advisory Board for Mechanical and Industrial Engineering at Qatar University. Dr. Al Hajri has a PhD from Robert Gordon University, Scotland (UK), an MBA from Brunel University (UK) and a BSc in Mechanical Engineering from Helwan University (Egypt).