The United Nations calls the Syrian refugee crisis the greatest humanitarian crisis of our time. Within this context, one problem is front and center: the lost generation of children, forced from their homes by war, their lives and hopes blighted by trauma and destruction, their basic right to education unfulfilled. And we know that despite its astonishing return on investment, early education is among the most neglected of all humanitarian programs: less than 2% of funding goes to education, and only a sliver of that to the youngest children.
Millions of children affected by conflict and displacement are experiencing what is known as "toxic stress" – a relentless cycle of trauma, violence, instability, and neglect that disrupts their brain development, causing immediate suffering as well as devastating social and economic consequences well into adulthood.
The good news is that we know from science that intervention in the earliest years of a child's life can actually reverse the effects of toxic stress. Early education and nurturing care boosts their confidence and self-esteem, and helps them heal from the trauma of crisis.
A Bold Partnership with a Bold Solution
Sesame Street and the International Rescue Committee (IRC) are partnering on a new initiative to address the educational needs of young Syrian refugee children in the Middle East. Together we will be creating and delivering a suite of culturally specific educational resources to give these children the resilience and skills they need to thrive, and help mitigate the toxic stress from which they suffer.
Our program is built on decades of scientific evidence across economics, child development, and neuroscience. Early childhood programs must target parents and immediate caregivers in their earliest years of life, so that they can engage the youngest children effectively. They must focus on social-emotional skills in preschools, as a foundation for literacy and numeracy, so we propose to train and support teachers. And to reach scale, they must be available for children and parents across a wide range of touch points – through media, in the home, in the community, in health centers, and in preschools.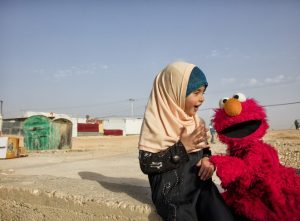 Sesame Street was founded in the United States in 1969 on the idea that television could be used to give disadvantaged children in the inner city the same leg up as upper middle class suburban children.
It's had such a significant impact on cognitive and social skills of disadvantaged children that it's been likened to Head Start, only much more cost effective than the government program. We will do the same for displaced children by bringing Arabic educational media and resources, with local characters and stories that reflect their experiences.
IRC was set up by Albert Einstein to rescue European Jews in World War II and has since been responding to the needs of people and communities impacted by conflict around the world. With deep roots in communities throughout the Middle East, and the trust of local service providers, IRC has a proven record of delivering education programs and technical expertise in crisis setting that have reached 1.2 million refugee children in 2016 alone,
So how will this work?
Imagine, a family, whether living in a refugee camp or urban neighborhood, waking up and watching Sesame content on their televisions and mobile phones, both highly common throughout the region. When visiting a health facility or community center, parents will get crucial parenting tips while their children read or play. Back at home, trained community health workers will use our content to offer parenting advice and stress relief techniques.  If the children are lucky enough to attend formal preschools or childcare centers, their teachers will have access to engaging content, books, and activities.  Before they go to sleep, parents can engage them with songs, storytelling, and books.
We will achieve measurable results in mitigating toxic stress, and in improving children's language, pre-literacy, pre-numeracy, and social-emotional skills.  In the process, we will set the standard for the millions of children worldwide whose lives are shattered by war, creating a model that can be replicated in the future crises we unfortunately know may come.
This is only possible because two great organizations are coming together in common cause.
Education provides the keys to a future in which refugees can find solutions for themselves and their communities. We need to reach them when they are young, and we need to do so now. If we neglect this task, we will be failing to nurture peace and prosperity for us all.
Innovating Higher Education for Refugee Learners