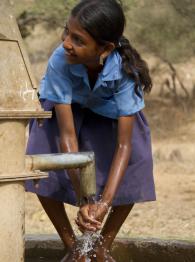 About the Project
This project is one of the 2014 WISE Awards finalists.
Adopt a Village is the heart of Free The Children's international work: A holistic and sustainable development model that provides children with educational opportunities and lifts communities out of poverty. Free The Children works with marginalized indigenous communities that have been traditionally overlooked by international aid. Its innovative development model identifies various circumstances in children's environments that prevent them from attaining education and from leading healthy, sustainable lives. 
Adopt a Village is based on five key pillars: Education, Clean Water and Sanitation, Health, Alternative Income, and Agriculture and Food Security. The last of these was added recently and responds to growing food insecurity around the world. Free The Children is striving to provide opportunities in agriculture to benefit children and communities. Adopt a Village is a well-established and successfully scalable project that currently operates in eight countries globally.
Context and Issue
Throughout the world 57 million primary-school-aged children do not attend school because of numerous barriers. Children, especially girls, are kept at home to take care of their siblings or to collect water for the family, some children are engaged in child labor, and some live far from school. 
Solution and Impact
Free The Children believes that education provides the highest return of any social investment. Adopt a Village is a holistic, sustainable, community-driven model that addresses the issues of education and poverty through empowerment. The project emphasizes community input and involvement to facilitate community ownership and long-term sustainability.
Adopt a Village has been extended to over 50 communities around the world with populations ranging from 200 to 7,000. To maintain the quality and integrity of Adopt a Village, Free The Children employs permanent staff on the ground to monitor and evaluate community progress. Free The Children works with local governments, ministries of education, and community leaders to ensure the sustainability of all components of the program. As a result 55,000 children can attend school daily in over 650 schools.
Future Developments
In the next five years Free The Children plans to transform 100 communities by implementing the Adopt a Village program. The education initiatives include beginning construction of a boys' secondary school in Kenya in 2014; two girls' secondary schools have been successfully established in the region. The project would also like to expand opportunities by building vocational learning centers for young people in its global communities. Finally, with the recent addition of the Agriculture and Food Security pillar, the project seeks to provide more nutritious lunches for students and increase the number of vegetable gardens for student and faculty use.
Toward these ends the project has launched a number of fundraising initiatives working with several dedicated corporate partners and engaging with local youth and adult supporters who fundraise for the organization's international projects. 
The experienced on-the-ground teams in Adopt a Village countries oversee project implementation, monitoring and evaluation. They also identify community needs and future growth opportunities (e.g. secondary schools) and undertake outreach activities. They work closely with the members of international communities to ensure that their projects will remain self-sustaining when that support concludes.  
April 26, 2014 (last update 12-30-2020)