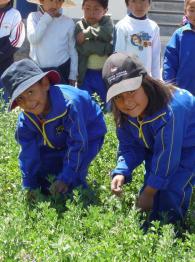 About the Project
This project is one of the 2014 WISE Awards finalists.
The School Enterprise Challenge was designed to transform large numbers of young people around the world from job seekers into job creators. Since its launch by the international education charity Teach A Man To Fish in 2011, it has offered schools around the world resources and tools to create fully functional student-led businesses that are both educational and profitable. The businesses become a platform for providing practical entrepreneurship education to students, while generating extra income for schools. This project is innovative in its design for achieving significant reach at low cost, making it both scalable and accessible for low-resource schools. Teach A Man To Fish also works to build the capacity of local organizations and governments through the sharing of expertise in the implementation of this program. 
Context and Issue
The School Enterprise Challenge addresses the challenge of relevant education, youth unemployment and school funding. Often what children learn at school has very little relevance to the workplace context they will find themselves in after school and fails to provide skills to break the cycle of poverty. Mainstream education in most countries still focuses on academic achievement and does not support the development of skills, knowledge, behaviors and values which are important in finding employment or for self-employment. Particularly in developing countries, schools often have few resources to spend on areas from basic educational resources to school meals which can make a big difference to learning outcomes and attendance.
Solution and Impact
The School Enterprise Challenge overcomes these obstacles by:
Making learning relevant, allowing young people to see directly how their learning links to success in the world beyond school. Academic subjects are made relevant in this real-life context and learning outcomes are improved.
Enabling young people to learn the skills, knowledge, behaviors and values employers are seeking, particularly soft skills such as teamwork, communication, problem-solving, and behaviors and values like being pro-active, self-disciplined, and reliable.
Generating income; the businesses set up as part of the program generate profits which schools can use to meet their key needs.
With over 370,000 beneficiaries to date, in 2019 alone,11,000 schools from more than 100 countries registered for the program with over 71,000 young people and 5,668 teachers directly benefiting from planning and running a school business. A total of US$902,000 extra income was raised for school communities through these student-led businesses. Schools set up an incredible variety of businesses including a juice bar in Romania, a plant nursery in Pakistan and a mobile banking service in Nigeria, amongst many others.
Future Developments
In the coming years the project seeks to:
– Adapt the programme to improve the accessibility for children and young people in more marginalised contexts e.g. refugee camps
– Support and enrich learning through technology-based platforms for learners, educators, parents and partners
– Establish networks for programme alumni where they can access peer support and relevant follow-on opportunities e.g. micro-finance, scholarships and work experience
– Incorporate the School Enterprise Challenge into the national curriculum in at least four countries
– Ensure financial sustainability at the programme level
The project aims to achieve this by:
– Strengthening and establishing new relationships with strategic partners
– Developing technology-based solutions for programme delivery, community management and impact assessment
– Utilizing regional offices to influence education policy at a national level and the UK base to influence education policy in the international development sector
– Diversifying funding streams by generating greater income through paid consultancy services and programme add-ons, e.g. certification.
April 26, 2014 (last update 02-20-2021)