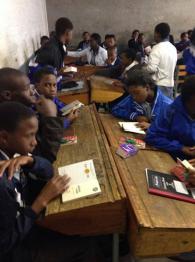 About the Project
This project is one of the 2014 WISE Awards finalists.
FunDza is focused on growing generations of young South Africans empowered through literacy and a love of reading. A universally recognized need, reading provides the foundation for all education; and education is a major driver of economic and social mobility. FunDza provides young people across the country with access to quality locally-generated reading content via their mobile phones. 
FunDza's highly engaging content hooks even reluctant readers into reading every day. Its "library on a cellphone" showcases fiction and non-fiction books, short stories, plays and poetry. The content is written by award-winning and celebrated local writers. Each week FunDza publishes a new short story which is serialized in seven parts, providing fresh content every day. Feedback shows that this method is successful in getting readers to visit the mobile network frequently and making reading for pleasure a daily habit. In addition to commissioning new content, FunDza republishes interesting and inspirational stories provided by other publishers or writers. It is also mentoring aspiring young writers to have their work showcased through the mobile network. 
Context and Issue
The education received by young people in post-apartheid South Africa remains vastly unequal. Poverty and its attendant low levels of literacy lie at the heart of the problem. Access to books is low; just eight percent of public schools have functional libraries. A 2007 study by the SA Book Development Council found that only 14 percent of South African adults are "active readers" and only five percent of parents read to their children. Latest reports claim that South Africa has nine million functionally illiterate people, 4.7 million of whom are children.  A UNESCO report states that "children from the wealthiest households in South Africa are 10 times as likely as children from the poorest households to score well on reading".
Solution and Impact
FunDza is addressing these issues by providing access to engaging and exciting young adult content, in the "place" where teens and young adults already spend much of their time –on their mobile phones. It delivers content at low or no cost to the reader and employs the popular social concepts of sharing and engagement to grow its reading community in an organic way. The interactive mobile network stimulates participation. Readers can comment on stories, contribute their own content and share stories with friends.
Currently FunDza's mobile network is accessed by over 50,000 unique users each month. Google Analytics shows that the average session length is about 14 minutes, indicating active engagement. Since inception, more than 40,000 comments have been published on the site. The network receives approximately 100 comments a day, reflecting the popular appeal of the content. FunDza believes reading supports transformation and social justice. It develops stories around particular issues to promote awareness, sensitivity and empathy for marginalized members of communities.
Future Developments
FunDza is improving its content delivery platform to incorporate language and comprehension tools and to include "gamification" strategies to enhance user experience. Other tools will help teachers take best advantage of the material inside the classroom. In addition FunDza is planning a number of "special" story projects. In 2014 it will run a "Rights" project that brings to life the South African Constitution and Bill of Rights through a series of powerful stories and accompanying resource material. Through improved engagement and targeted promotion, FunDza aims to reach over 100,000 new readers monthly.
FunDza is currently working on ICT development; it is seeking targeted funding for some of its longer term goals, such as a standalone "Reading Learning Sharing" FunDza app to work on Android devices and/or feature phones. The "Rights" project is underway; collaboration with partner organizations will significantly support its reach. Similar projects and planned promotions (competitions, etc.) will help to expand the readership. FunDza's use of mobile technology is highly scalable: There is little increase in delivery costs with increases in readership.
April 26, 2014 (last update 12-30-2020)