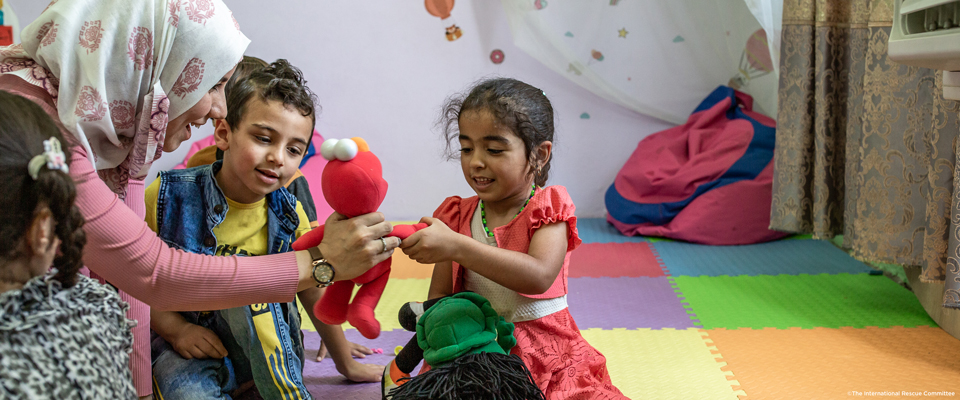 Context
This project is one of the 2023 WISE Awards winners. 
For millions of children across MENA, conflict and crisis marked the most formative years of their lives with displacement, chaos, and violence, negatively impacting their intellectual and social-emotional development and threatening long-term economic prosperity, health and well-being. Evidence shows that ECD interventions are crucial in helping children and their families thrive and overcome traumatic experiences.
With funding from the MacArthur and LEGO foundations, Sesame Workshop and the International Rescue Committee (IRC) launched the Ahlan Simsim initiative in 2018 to bring early childhood development and playful learning to children affected by conflict and crisis in the Middle East.
Solution and Approach
Combining the IRC's expertise in communities affected by crisis with the proven impact of Sesame Workshop's educational media, Ahlan Simsim is a life-changing initiative that provides children in conflict-affected regions the support they need to learn, grow, and thrive. Ahlan Simsim combines and integrates educational media resources, including the award-winning Ahlan Simsim TV show, with sustainable and locally owned program models delivered by the IRC and local civil society and government partners, and strengthening existing national systems to ensure long-term sustained support for children. Partnership is central with over 60 local partners including 12 partnerships with national Ministries of Education, Health and Social Development. Programs and services support children and the adults important to them from caregivers to service providers; they can be delivered in informal and formal settings, via remote and in-person modalities, and by IRC, local civil society, and governments. Through a robust learning and advocacy agenda, we also seek to understand and inform others about the impact of holistic ECD programming on children.
Impact and Future Development
Our teams employ various learning methods to measure impact including evaluations, research and prototyping, content review and cost analysis. We have collaborated with New York University (NYU) to evaluate the impact of mass media and programming, with findings that demonstrate positive outcomes for children from Ahlan Simsim programs and contribute to the sector's understanding of what works to support early childhood development for children affected by conflict and crisis.
IRC and Sesame are investing in design of the next phase of Ahlan Simsim to deepen and expand impact in current and new geographies. We are focusing on getting the word out about what we're doing and learning, setting a new standard for how the world responds to the needs of children affected by conflict and crisis and influencing the humanitarian sector to prioritize early childhood development.
September 04, 2023 (last update 09-04-2023)