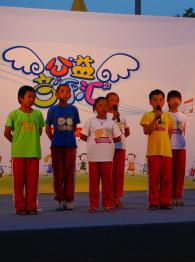 About the Project
This project is one of the 2013 WISE Awards finalists.
This project is the first in China to provide education for migrant children by establishing low-cost educational opportunities. It has provided educational opportunities and financial assistance for 10,460 migrant children in 10 low-income communities. It connects migrant children's issues with migrant women and the community.
Context and Issue
Migrant children from low-income families do not enjoy equal education opportunities in China. This is due to three main factors: limited public resources, the difficulty of following a continuous education, and thus fewer opportunities of being awarded certifications because of their highly mobile lives.
Migrant children face a series of challenges in their effort to integrate into society: poor academic foundation, lack of good learning habits, family education and affection, shortage of opportunities to integrate into society, lack of recognition of self-identity, low sense of security and confidence in a city, and lack of hope.
Solution and Impact
The project serves the practical needs of migrant children with integrated social and educational resources such as school facilities, evening classes, family education, occupational skills training, legal rights education and healthcare. It draws attention to migrant children's development as human beings (giving them a sense of identity and social responsibility) and helps nurture their social skills. The project also assists local government organizations in managing migrant populations, understanding their needs and enriching community education activities.
In the past eight years, Tongxin Experimental School has provided varying degrees of relief and educational support scholarships for more than 2,600 students. Over one hundred families showed upward mobility. It has also conducted social work and community work through more than 30 NGOs in Beijing, Xi'an, Suzhou, Tianjin, Guangzhou, Chengdu, Zunyi, Wuhan, Kunming, Xiamen, and Qinghai.
In addition to providing educational opportunities for 10,460 migrant children in 10 low-income communities and funding more than 2,600 poor students, it has carried out student development activities and community education activities, benefiting 30,000 people. It has also provided family education services for 10,000 migrant families, health counseling for migrant women and employment for more than 12,000 people.
The project has coordinated social resources for 20 other migrant schools and provided volunteer opportunities for more than 2,000 people in 20 other voluntary organizations.
Future Developments
In the coming years, the project aims to put more children with limited opportunities into the public school system and provide them with educational opportunities of better quality. It also seeks to set up a dedicated fundraising department to oversee human, financial and material resources and ensure the continuous development of public welfare.
The goals for the next five years include:
To complete the transformation of the public service schools, and to obtain legal status;
To build a social resource network platform for migrant children and establish a tracking information system for migrant children at the project sites and other migrant children schools
The project also seeks to conduct research into migrant families' views concerning public schools and the practical difficulties they face so as to:
Understand the capacity of local public schools and communicate with government education authorities;
Organize volunteers to help migrant children access public schools;
Collect information about exiting students and those who have graduated and organize field trips, interviews and peer recommendations in order to provide targeted support.
April 26, 2013 (last update 12-31-2020)