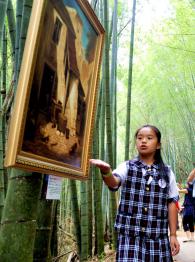 About the Project
This project is one of the 2013 WISE Awards finalists.
The project provides cultural resources and educational exhibitions to pupils and young students across the country thanks to partnerships with major museums in Taiwan and abroad. Making use of replicas, exhibitions can be displayed in remote villages and schools located on outlying islands. 
By integrating aspects of culture such as aesthetics and lifestyle into school curriculums and forming partnerships with local communities, the Foundation is able to establish a multicultural platform that promotes lifelong learning. Moreover, exhibitions also foster creative ways of teaching while encouraging students to think outside the box and share their ideas, greatly enhancing their communication skills.
Context and Issue
In Taiwan, social science and humanities education is beginning to fall behind math and physical/natural sciences to an alarming extent. Creativity is often stifled in favor of memorization of information tailored to passing standardized tests. 
Students of today face change at an unprecedented rate and enjoy ever-increasing cross-cultural interaction. It is thus essential they are given exposure to new ways of thinking and to culture and provided with appropriate tools to handle the unknown challenges that will impact them in the future.
A very effective tool is the ability to use creativity to understand the world, solve problems and learn independently. Students can also use these problem-solving skills to understand their own culture in the context of the global stage.
Solution and Impact
The project seeks to unlock and promote the innate problem-solving creativity of learners and encourage the creative exploration of new information about the world. It does so by exposing students to traveling art, history and science exhibitions. 
The 22 exhibitions of this mobile museum project have served to promote art and cultural education and provide resources to schools for the Ministry of Education which does not fund such programs. The project has also served to inspire students and teachers' creativity through creative curricula and independent learning. Students participate in the setting up of the exhibitions at their schools and teachers are inspired to integrate creative content into the classroom courses following the exhibitions. These actions have had such widespread impact in Taiwan that in nine years the exhibition has reached over a tenth of the total population of Taiwan (more than 2.3 million participants) including schools and communities in underprivileged areas and incarcerated youths.
Future Developments
It is planned to expand the number and type of Eastern and Western culture exhibitions to reflect a broader range of culture and encourage more forms of expression and creativity.  Problem- and project-based learning will also be integrated into exhibition updates. It is hoped to expand the reach of the exhibition into a global setting by including Taiwanese schools overseas and through a related program that is designed to share Chinese art and culture exhibitions with foreign schools in Taiwan and abroad. The project should also reach more elementary, junior high and senior high schools and the program will be available through an online learning environment in order to expand its reach.
The activities and materials available in some of the earliest exhibitions are being expanded to reflect this change in direction. This will be supported partly by working closer with the Ministry of Education and the National Palace Museum. Exhibitions are being digitalized and physical and virtual tools continue to be developed. The project is currently working with Taiwanese schools in Vietnam and negotiating with Taiwanese schools in Indonesia to host exhibitions and provide community outreach to the local communities and other international schools in their area.
April 26, 2013 (last update 12-31-2020)