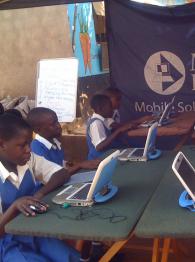 About the Project
This project is one of the 2013 WISE Awards finalists.
The Mobile Solar Computer Classroom (MSCC) consists of a modified Toyota RAV4 (with a custom rack on top to support solar panels), three 65-Watt solar panels, one 200 mA battery, 15 Intel Classmate PC laptop computers and 1 Internet Router, a 5m-by-3m foldable tent, 8 folding tables, and 16 folding chairs. All the material is custom-designed to fit into the car with two computer teachers.
The core aim of the MSCC is to open up students' and communities' minds to the possibilities that computers provide and to lay the foundation for developing an African-based and owned computer industry to promote economic development and raise people's standards of living.
Besides being able to reach any school regardless of where it is, the mobile classrooms also use training software that caters to different learning abilities, allowing people to learn at their own speed, and the software can be translated into any language, so trainees can read instructions in their local languages. The software contains games and puzzles to make lessons enjoyable, memorable and educational. For example, simple games designed to teach mouse and keyboard skills use recognizable images such as popping balloons and assembling animal puzzles.
Context and Issue
Access to computers, much less computer training, is rare in Ugandan schools and communities. Infrastructural challenges such as poor roads and the high cost of electricity make ICT service provision very costly and unaffordable to low-income schools and communities. Hence few Ugandan students have access to anything but basic learning resources. The MSCC overcomes these hurdles and gives many Ugandan schools and communities their first experiences with computers and the Internet.
The ability to access computers and the Internet brings the benefits of improved productivity, the professional presentation of student's work and an enriched learning environment. In the global digital information age, those who are unable to access the Internet through ICTs are increasingly disadvantaged. In Uganda there is a big gap between rich schools that have access to technologies and poor schools that do not. This divide results in information and knowledge poverty and poor academic performance in low-income schools.
Solution and Impact
The MSCC was designed to reach even the most remote areas and to operate on a rotation basis so as to serve as many schools and communities as possible. By using solar power and low-power Intel Classmate PCs it is possible to reach schools and communities that have no access to electricity. The project brings the classroom to the student, transporting all the equipment and materials needed to conduct training sessions – including up-to-date, well-maintained computers. Furthermore, the use of multilingual self-teaching emPower software enables students to learn at their own pace and in their local language. The project reaches 1,000 students and between 800 and 1,500 community members every year through the use of two MSCC.
Since 2008, the MSCC has provided 20,000 students and 1,000 teachers in 55 schools with basic computer training. The teachers are now using the Internet for research, to supplement their teaching materials and to connect with other schools all over the world. Mukono Boarding primary school, Bishops West primary school and Kisowera primary school principals used the Internet skills taught to them to find partner schools in Seattle and the UK.
Future Developments
Seeing the transformation that computer lessons can have on a school, the project is embarking on a comprehensive plan to install fully functional computer labs in 55 schools and connect them to the Internet. 
With the Connect Schools program, the project aims to empower schools with relevant information that will enable them to improve the academic performance of their students as well as act as an incentive to attract more students to join their schools. Furthermore, it will connect schools to various support organizations that can help raise standards through infrastructural improvements and various enrichment projects at the schools.
It has already contacted various local school councils, local companies and organizations as well as international partners to contribute funds to facilitate its program. Among the schools that have received equipment, three have already started fundraising for the program.
April 26, 2013 (last update 12-30-2020)