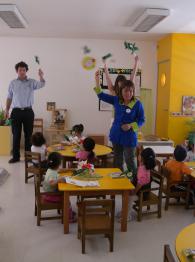 About the Project
This project is one of the 2013 WISE Awards finalists.
Elige Educar aims to attract more talented students to become teachers by improving the public image of the profession, teacher-training programs and school working conditions. The initiative employs a propositional and direct style and, since its creation, technical assessments of teachers' social prestige and the interest in becoming a teacher have shown a significant improvement, while more talented students have entered teacher-training programs.
Context and Issue
International studies agree that the most important factor in children's learning is the schoolteacher. In Chile, few professionals in the public sector attended by vulnerable children are effective in the classroom, mostly due to poor selectiveness and training.
The performance of Chilean children in recent international tests (TIMMS, PISA and others) has been well below the OECD average. National and international evaluations of graduating teachers show them to be, on average, below the 50 percent achievement line. Active teacher national evaluations show few professionals to be good or better. The context for this outcome is an almost total lack of selectiveness in recruitment, low-quality training programs and poor working conditions, affecting the image of the profession. Elige Educar addresses these shortcomings by raising public awareness of the critical role of the teaching profession and by attracting talented students to become teachers.
Countries that do best in education value highly the teaching profession and select their future teachers from the top 30 percent of each recruitment process. This is not what happens in Chile, where high school students rate education as the poorest professional alternative and where teacher programs have historically recruited mostly in the lowest 50 percent of every generation. This perception must change in order to achieve sustained and universal quality education and for talented students and effective teachers to be attracted to – and retained in – the educational system.
Solution and Impact
Elige Educar is the only program in Chile addressing the challenge of improving the public image of the teaching profession and attracting talented students to the field. Its means are diverse and innovative: intensive use of the media, interviews with thousands of high school students considering education as a career, and collaboration with schools, universities and other educational agents. Its message is propositional, reinforcing the positive aspects of the teaching profession and pressing for public policies that improve working conditions. The executive team is composed of well-motivated young professionals from different fields, while the board represents different sectors of society.
The project places the teacher at the center of its effort to improve significantly the learning of children. Main beneficiaries are children being taught by well-selected, trained and supported teachers. The teaching profession is a beneficiary as well, becoming more prestigious and offering a better lifestyle and opportunities for career advancement through improved working conditions. Scholarships are also delivered to alleviate the financial burden of higher education.
The impact in its three years of operation has mainly been in four areas: (1) positioning a broad invitation to make a career in education, specially among young people who are choosing a career; (2) changing public opinion of the importance of good teaching for quality education for all, as measured by professional surveys (Adimark GfK, 2010-2012), with the highest impact within the target-age (18 to 24 years of age, a gain of 11 points) and the high-income (10 points) groups; (3) increasing the number of students pursuing education degrees recruited from the best 20 percent; (4) influencing policy-making concerning teacher training and support through publications and interviews.
Future Developments
Although one of the hardest efforts in society is to change deeply rooted beliefs, Elige Educar has proved to be effective in causing a change of attitude towards the teaching profession in just three years of action. But that change is not enough, and sustainable impact requires deepening the intervention. Elige Educar plans to continue the effort made so far: media campaigns (press, TV and radio), a personal approach to prospective new teachers, designing public policy, working with teacher-training institutions, promoting scholarships, continuously monitoring impact and being innovative in its methods. New actions include the systematization and internationalization of the project model.
A new line of action is being created, focused on content generation – documents, infographics, videos, presentations, etc. – that systematizes the experience gained yearly, the information and proposals gathered through work with other actors, and the results of studies being conducted. This will be accompanied by a public affairs strategy for promoting actions among politicians, universities, and influential leaders. There are also plans to develop materials to improve the image of teachers, to be used by schoolteachers in the classroom for children of all ages. Internationalization will be developed in four stages: fundraising, documentation, promotion and advising.
April 26, 2013 (last update 12-30-2020)