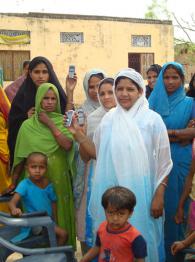 About the Project
This project is one of the 2012 WISE Awards finalists.
The Freedom HIV/AIDS project was launched in 2005 and is a good example of how mobile games on critical health issues such as HIV/AIDS can create awareness among young people in rural areas.
Context and Issue 
In 2004-2005, India was in the grip of an HIV/AIDS pandemic affecting 5.7 million people – at the time, the largest pandemic after South Africa. The Indian Prime Minister, Dr. Manmohan Singh, said, "There is no cure for HIV/AIDS. Education is the only vaccine to prevent it." The games were deployed on low-cost, low-resource handsets with black and white screens. Later they were deployed for medium to up-scale handsets. Four popular games were created. They used clear short messages, with simple instructions and easy gameplay.  
Solution and Impact 
Freedom HIV/AIDS started as a collaborative partnership between ZMQ and Delhi State AIDS Control Society. Within three years, the initiative successfully reached out to over 42 million subscribers with 10.3 million game sessions played for just Re 0.30 (30 paisa) per subscriber, that is with over 10 million beneficiaries. Today, it has over 65 million subscribers and 29 million game sessions have been played.
Freedom HIV/AIDS is being scaled both horizontally and vertically. It has extended to new geographical regions with different health concerns along with HIV/AIDS. ZMQ's Africa Reach Program covered six countries in Africa: Uganda, Tanzania, Kenya, Malawi, Mozambique and Namibia. The games reached out to over two million mobile subscribers with 1.3 million games downloaded.
The initiative has won the UN's World Business and Development Award (2008), the WSIS-MAathan Award, the Ashoka Changemakers Award, the TERI-GTZ Award and the GBC Award for innovative practices and transforming educational practices.  
April 26, 2012 (last update 12-30-2020)