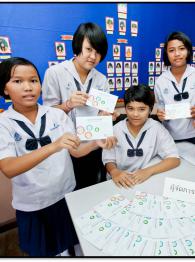 About the Project
This project is one of the 2013 WISE Awards finalists.
The Student Bank project was started in Thailand in 2005 and is now established in 30 schools with 12,568 active members. Through this project, youth are empowered to manage financial risk through financial literacy and socio-economic education. The project is run by students for students. The core students in every Student Bank share similar roles and responsibilities to a commercial bank, such as a bank manager and an accountant. 
The organization behind the project, Plan International Inc., works with the most at-risk populations who face gender and ethnic discrimination, such as stateless highlanders who do not have Thai citizenship, migrants, seafarers and individuals with HIV/AIDS. 
Context and Issue
Many children and families across Thailand do not have financial literacy and do not have access to a bank. In some cases the nearest bank is up to 50 kilometers away. In addition, training in entrepreneurship and financial knowledge and skills are not provided by Thai education. As a result, students are less able to thrive in Thailand's fast-developing economy. There is a need for youth to develop their financial planning skills to become self-sustainable members of the community and be able to give themselves a good chance of developing into productive adults. 
The Student Bank project has been implemented in schools in several areas throughout Thailand, in particular those known to have at-risk children. In these areas, the most common livelihoods are agriculture-related. Many families are low-income and in debt. The high rate of debt in the region warrants the need for activities that emphasize the development of budgeting, spending discipline and financial skills. The students are learning how to save and they are also beginning to understand the possibilities their savings and financial skills may offer for their future.
Solution and Impact
The Student Bank project model consists of a platform for students to develop financial skills from an early age, to gain direct experience in banking operations and administrative tasks and in running their own business.  
The project is an innovative educational practice because it includes an online Internet banking platform where students are able to keep track of their savings, withdrawals and deposits. The project aims to promote saving, financial discipline and planning. It teaches students how to operate a small-scale bank. The project also provides training in entrepreneurship and in setting up small enterprises. It combines the theoretical framework of financial training with the practical experience of saving, enabling students to both understand and practice what they have learned.
In terms of impact, the project is established in 30 schools and has 12,568 active members. The total savings by students in these schools is $182,838 (US). As a result, parents' debt has been reduced by 14 percent because 72 percent of students responded that they share savings with parents to help pay bills and expenses.  Students also save for emergencies, for schoolbooks and supplies, for future school fees, and to help their parents with expenses.
Future Developments
In the next five years, Plan's Student Bank model will cover every part of Thailand. The ultimate goal is to open one million student accounts in 3,500 schools. Plan is also in discussions with telecommunications companies in order to expand the project to a mobile banking platform. This will allow it to reach more young people from hill-tribe areas that are not in school but have the resources to save through mobile banking. Plan's partners are advising the project throughout this process. Plan will also engage more commercial banks to support the project by setting up more Internet banking platforms and making it more convenient for students to save in school.
Plan will implement the above by leveraging its strong relationships with corporates such as Citibank and Prudential. Plan has also developed a good relationship with the Ministry of Education because of the community-focused approach and its efforts to reach the most underprivileged children. These relationships will help Plan to scale up this project and implement it in other schools. Plan will continue to establish relationships with local banks such as Government Saving Bank, Ayudhaya, and Kasikorn, and increase the participation of the private sector and the ministries as well as the telecommunication industry for mobile banking.
April 26, 2013 (last update 12-31-2020)