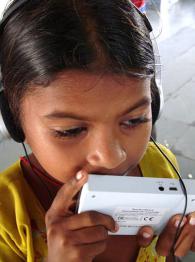 About the Project
This project is one of the 2010 WISE Awards finalists.
Seeds of Empowerment (SoE) is a global non-profit 501 organization and Stanford University Graduate School of Education spin-off, dedicated to reaching the unreached, educating and empowering with innovative mobile-learning solutions. SoE programs include: 1001 Stories, SMILE (Stanford Mobile Inquiry-based Learning Environment), ROSE (Remotely Operated Science Experiment), and mPower Girls.
SoE's 1001 Stories Program conducts storytelling workshops, integrated with mobile technologies, to build on children's natural potential to create stories, and are an effective tool to advance literacy grounded in local languages and themes. The stories provide unique reading and learning materials for children worldwide to learn from others' stories and write their own. Selected stories are published for purchase as eBooks and print books, generating a self-supportive, entrepreneurial model. All proceeds are re-invested into local communities.
All SoE mobile learning solutions were originally developed for the world's most remote, underserved areas without reliable Internet or electricity. One of SoE's latest innovations, a battery-operated SMILE Plug, provides a private classroom cloud for up to 60 mobile devices, houses education resources (e.g. Wikipedia, open coursework, skill-training lectures), and supports all of SoE's mobile learning programs.
Context and Issue
There is a lack of access to quality education providing 21st-century skills. Fifty seven million primary-age children are out of school and nearly half will likely never enter school. Children of poorest families are four times more impacted. There is a lack of local-themed content in local languages in underserved areas.
The need for education worldwide is undeniable, as are its potential benefits. Educated populations are healthier and more productive. An additional year of schooling can lead to a 10 percent increase of personal income in low-income countries (20 percent for girls). Believing that both education and connectivity are human rights, the project's programs bridge both the digital and empowerment divides.
The Solution and Impact
The innovative model of the project is based on leveraging innovative technology and pedagogy designed for mobile learning to cause a paradigm shift in the global education ecosystem.
The strength of the project lies in the fact that it:
Promotes literacy and empowers through creative writing
Develops technology skills while encouraging entrepreneurship
Increases global understanding through local-themed content 
The project is partnering with local communities, and over 8,000 stories have been collected in hundreds of storytelling workshops so far to be published at a later stage. To date, twenty original stories have been published by children.
Beneficiaries are the underserved with high rates of illiteracy and out-of-school children lacking access to quality education. To date, the project has reached 26,000+ students and 1,500 educators in 22 countries, in eight different languages.
The project began with pilots in Uganda and India, and was then replicated in 22 countries. 
Future Developments
Seeds of Empowerment's goal is to improve the lives of the world's underserved youth by pairing innovative pedagogy and mobile technology to inspire students and equip them for 21st-century success. It seeks to reach at least 20 million children by 2020 and to publish thousands of local-themed stories by children.
SoE will expand its global experience in developing and delivering contextualized mobile-learning solutions that transform students from passive consumers to active agents in their learning and bridge the digital divide in underserved areas. SoE will build upon new and existing relationships with local entities, international organizations, large education initiatives, governments, and corporations to create opportunities to deepen its impact worldwide.
April 26, 2010 (last update 03-15-2022)