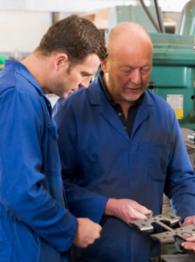 About the Project
This project is one of the 2013 WISE Awards finalists.
Studio Schools aim to respond to employers' concerns about the lack of work readiness amongst school leavers. Studio Schools are innovative state schools for 14-19 year-olds, backed by local employers. The first wave of Studio Schools opened in 2010, 16 are now open and 14 additional schools opened in September 2013. 
The Studio Schools Trust (SST) has developed the unique Studio Schools curriculum model, which has been developed through extensive research and consultation with employers, education experts and young people. The SST is the organization that unites all Studio Schools, enabling the sharing of best practice as well as providing advice and curriculum support.
Context and Issue
Improving employability skills plays a vital role in creating the next generation of motivated and enterprising young people who will impact the future success of the country's economy. Levels of disengagement in English education highlight the need for new types of provision. Just over 40 percent of students failed to achieve the current government's Level 2 target of 5 GCSEs at A*-C, including English and math (2012).
Evidence consistently shows that employers are concerned about key skills gaps in the British economy. Every new survey of unfilled vacancies confirms that employers are looking for, and not finding, key employability skills amongst school leavers. In the most recent CBI Employer Survey (May 2011) over two thirds of employers (70 percent) wanted to see the new government make the employability skills of young people its top education priority.
Solution and Impact
Studio Schools tackle the twin challenges of missing skills and youth disengagement by providing a bold new approach to learning in which key qualifications and employability skills lie at the heart of all aspects of the curriculum. Additionally, the Studio School model recognizes that students learn in different ways. Instead of replying solely on traditional teaching methods, Studio School students learn through a variety of learning styles and techniques involving enterprise projects and real work.
At the heart of the Studio School model are the aforementioned seven Essential Elements (EE): Academic Excellence – progress; Employability and Enterprise Skills – CREATE framework (see below); Personalized Curriculum – personal coaching; Practical Learning – enquiry-based learning; Real Work  – regular work experience; Small Schools – up to 300 students; Students of All Abilities. 
The unique CREATE skills framework has been designed specifically for Studio Schools and is comprised of a wide range of employability and life skills that underpin all activities in a Studio School: communication, relating to people, enterprise, applied skills, thinking skills and emotional intelligence.
Proximal outcomes include:
Increased student engagement, qualification attainment and satisfaction in secondary education
Increased non-cognitive and CREATE skills – greater confidence, aspiration, motivation, responsibility, resilience, self-awareness, maturity, professionalism
Realistic understanding of the labor market and career choices/progression routes
Improved links between students and the local community
Increased passion among teachers about their profession
Distal outcomes include:
Improved work readiness / employability of young people
Enhanced workforce for local employers
Increased enterprising attitude amongst young people
Improved life outcomes – health/well-being/earnings
Future Developments
In the coming years, the project aims to open 100 Studio Schools. The long-term aim is for there to be at least one Studio School in every local authority in England.
Studio Schools have cross-party support. It has political commitment from the government, as well as the main opposition party for multi-annual application rounds. The Studio School movement is gathering momentum year on year with the opening of new schools. It will stimulate interest in the model further through marketing, PR, case studies, its Ambassadors and its Royal Patron, HRH The Duke of York.
April 26, 2013 (last update 12-30-2020)