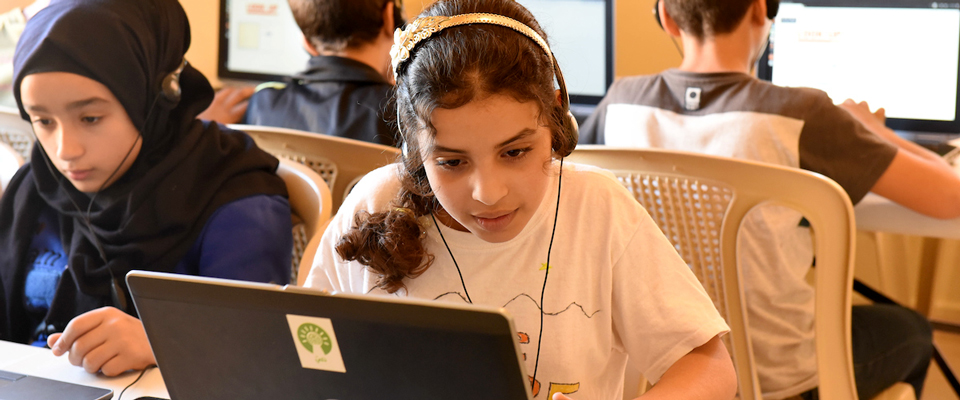 Context
This project is one of the 2023 WISE Awards finalists. 
Thaki supports refugee and vulnerable learners who have limited or no access to digital education. The schools and learning centers they work with cater to the most marginalized learners, often with intersectional challenges like poverty, child labor, displacement, disability or undernourishment. Thaki also trains teachers in digital literacy and how to integrate technology in lessons.
Solution and Approach
1. To empower refugee and vulnerable children to learn, explore and reach their full potential, no matter their life circumstances. Thaki makes devices and software radically accessible to marginalized learners: They offer schools a packaged computer lab solution including devices, top software and office tools, offline access and teacher training. All the content is available offline, navigable through a bespoke Arabic and English app interface.
These activities improve the literacy and numeracy of children in the schools Thaki supports. Equally importantly, they stimulate creativity and exploration (measured through students' digital literacy, motivation, and engagement). To facilitate this, Thaki also aims to increase teachers' digital literacy and ability to integrate technology into their teaching.
2. To work in the greenest way possible: Thaki doesn't want technology to be at the environment's expense. They use donated and refurbished laptops, and help schools maintain and responsibly recycle them at the end of their life. They have also piloted one solar powered school, and plan 4 more in 2023.
Impact and Future Development
Thaki's key impact is to improve students' educational attainment, as well as their motivation. An external evaluation (2021-22) showed Thaki's content increased skills, engagement, motivation, and made learning more fun, for students and teachers in Jordan and UAE. This supports their annual comprehensive evaluations.
Thaki's goal is to reach 130,000 learners by 2025 by continuing to grow geographically, expecting to also be in North Africa this year.
April 17, 2023 (last update 04-17-2023)