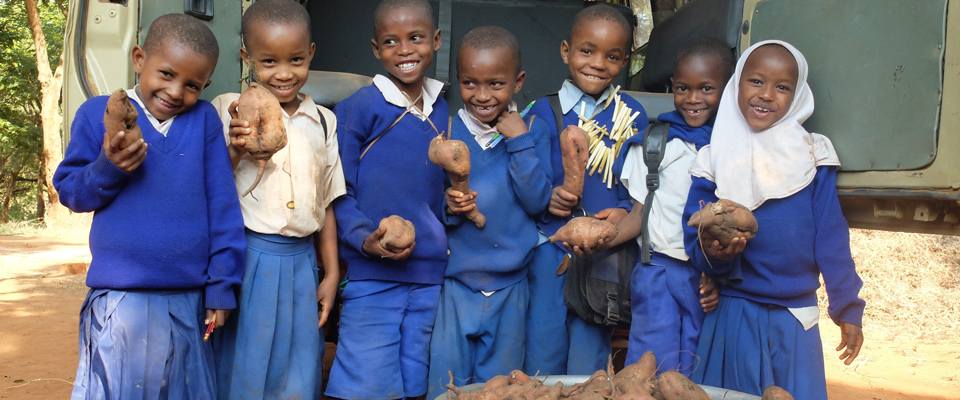 About the Project
This project is one of the 2023 WISE Awards finalists. 
The Shamba Letu project establishes and cultivates school farms to improve food security in vulnerable communities in Babati, Tanzania. Providing children access to at least one nutritious meal a day at school increases school attendance in communities where families live in poverty; ensures that developing children receive adequate daily nutrition for improved health; and increases children's ability to concentrate on their learning for improved academic performance.
Solution and Approach
School communities are equipped with knowledge and skills on climate-smart agriculture so that they can cultivate high-yield crops which improve the quality and quantity of farm produce. The sale of surplus produce supports schools' capacity to generate income, which is reinvested for student wellbeing and development activities.
Our unique approach is implementation of a holistic Education Program through a Public-Private Partnership (PPP) between: So They Can Tanzania; the Tanzanian Ministry of Education; the Babati District Council; the Manyara Regional Office; and the Board of Management of each participating school. It ensures systemic change within the national education system, supporting schools through our 6-year development cycle.
Impact and Future Development
Since the project commenced in 2019, as part of So They Can Tanzania's holistic Education Program approach, impact has included:
18 primary and secondary schools cultivating climate-smart school farms to improve food security for 10,824 (5,322 boys: 5,502 girls) vulnerable primary and secondary students.
172 hectares of land utilised annually to produce high-yield climate-resilient crops.
3,036,466 meals provided via school feeding programs through produce harvested via the school farms from 2019-2022.
24% improved academic performance across participating schools since inception of the project, and So They Can's holistic programming (based on Standard 7 National Primary Examination results)
3% average increase in student enrolment in participating schools.
So They Can plans to scale and replicate the project and its successes. In Tanzania we will continue to increase the number of participating schools by 10% annually, and focus on scaling drip irrigation for water conservation and increased production. From 2023 Shamba Letu will commence in Kenya 6,132 primary-aged children at 10 primary schools in Baringo and Nakuru counties in Kenya will directly benefit.
April 17, 2023 (last update 04-17-2023)