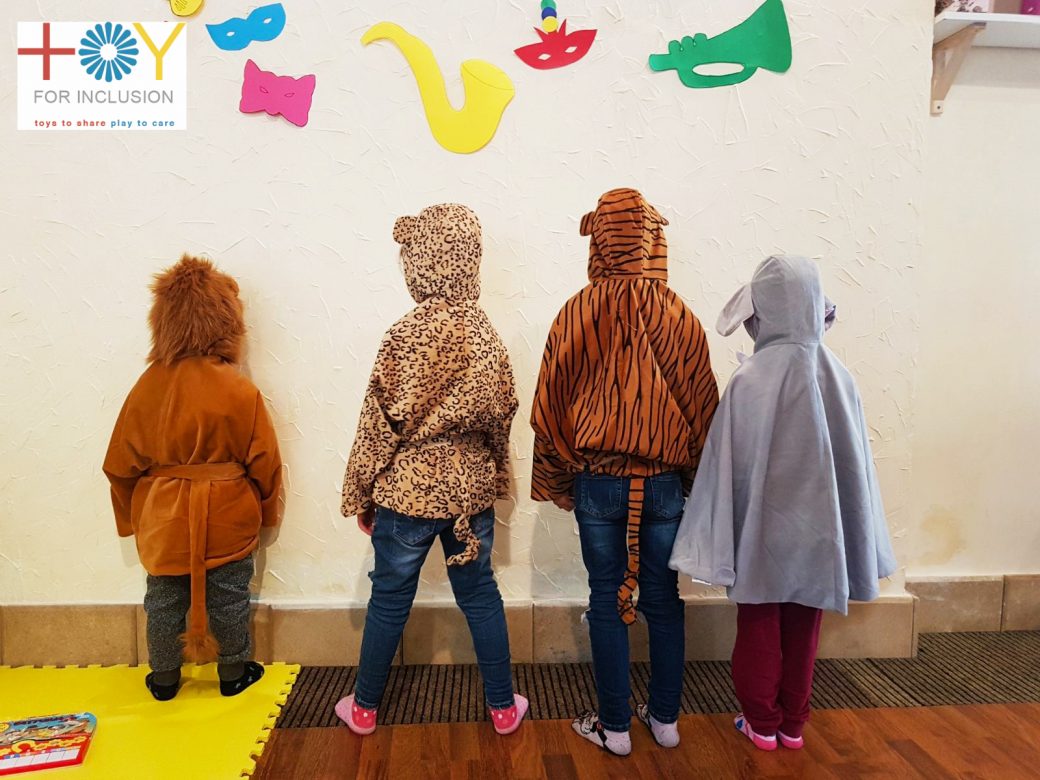 TOY for Inclusion addresses exclusion from ECEC services and segregation by creating community-based Play Hubs for children between 0 and 8 years old: non-formal, inclusive ECEC spaces where children and families are welcomed to play, meet and take part in creative and social activities. Between 2017 and 2020, 16 Play Hubs were open in 8 EU countries (Croatia, Hungary, Italy, Latvia, the Netherlands, Slovakia, Slovenia and Turkey). Through the Play Hubs' activities, over 10.000 children, 5.000 adults (parents and grandparents) and 1000 practitioners were reached. TOY for Inclusion was awarded the European Lifelong Learning Award 2018 from the LLL Platform, as best learning environment and in 2019 TOY for Inclusion was selected by the WHO European Regional Office as a best practice that promotes health equity. This project is co-funded by the European Commission and the Open Society Foundations.
Children with migrant backgrounds and children from minority groups such as Roma and Travelers already constitute more than half of the learner population in many early years and school settings across Europe. Europe's social cohesion strongly depends on the successful integration and inclusion of these learners. Their future, and the future of Europe, are interlinked. This view is strongly endorsed in current EU education policy declarations and strategies, that focus on access to quality education for all, paying particular attention to greater access for learners from disadvantaged backgrounds. Nevertheless, ensuring this remains a challenge for many countries. A significant educational gap persists between migrant children or those from minority groups and other children. High-quality ECEC is an essential foundation for successful lifelong learning, social integration, personal development and later employability. However, research suggests that the considerable and growing disparities in access to quality education and increasing segregation in European schools start at a very young age. Children up to six years old with a migrant, minority or marginalized background often suffer segregation or exclusion from ECEC services. When they are enrolled, they are placed in lower-quality services. This has a detrimental effect on young children (and their families) in terms of their rights, their development and their future.
The TOY for Inclusion approach creates and strengthens cross-sectoral co-operation among all agencies that are involved in promoting the well-being and education of young children, especially those with minority or vulnerable backgrounds (ECEC, health, social services and community development organizations). The core idea of this project is to move away from the perspective that some children and families are harder to reach than others. Instead, the aim is to adopt a new perspective where services become easier to reach. This can be done by promoting inter-sectoral work, flexible solutions and contextualized responses to specific needs. TOY for inclusion improves the transition experience of vulnerable children, and especially those with a Roma, minority or migrant background, to schools. It does so by creating community based Early Childhood Education and Care (ECEC) Play Hubs, where relationships between young children and families from different backgrounds are built. They are located in areas that are reachable for all families, and are designed and run by multi-sectoral teams composed by representatives of communities, school and preschool teachers, health services, parents and local authorities (Local Action Team). So far, 16 Play Hubs have been opened in 8 EU countries. From 2018, about more than 10.000 children, 5000 adults and 1000 practitioners participated in the activities in the Play Hubs. With With 'TOY to Share: Play to Care' we are: – Increasing access of harder to reach children (0-6) to inclusive and quality ECEC settings through the upscaling of the TOY for Inclusion approach – Increasing the knowledge and skills of educators, leaders of educational institutions, practitioners of the health sector, careers and local policy makers – Embedding the TOY for Inclusion approach in local educational policies.
Our dream is to have a Play Hub in every city in Europe and for local authorities to embed the TOY for Inclusion approach in their inclusive educational policy. To do so all our national TOY for Inclusion partner organizations are opening new Play Hubs in collaboration with other NGOs and local authorities.
February 21, 2021 (last update 03-08-2022)