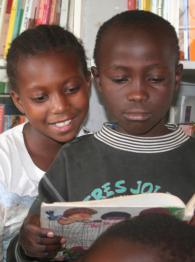 About the Project
This project is one of the 2012 WISE Awards finalists.
Watoto Wasomi Initiative is a project that provides education to street children. It aims to make it possible for children rehabilitated from the streets and dumpsite to go back to school. It does this by making reading materials accessible to children from poor families by establishing and equipping community and public schools so that these children are not sent home because their parents are too poor to buy them textbooks.
Context and Issue
The issue the project addresses is the lack of access to reading materials for children from poor families. Many children rehabilitated from the streets and taken to school are disadvantaged and this makes them return to street life when they are sent away due to lack of reading and writing materials. In order to tackle this problem, the project has been installing library facilities in the schools that have taken in street children.
The majority of children returning to the streets blame the fact that they do not go to school on the lack of reading and writing materials, uniforms and shoes. The root problems identified by these children need to be taken into consideration to enable them to pursue their educational goals.
Solution and Impact
The organization realized that purchasing books for every child was not sustainable so it developed the idea of spreading the benefits of loaned reading material usage not only to street children, but also to other poor children who do not have access to reading materials and hence perform poorly in public schools. Thus the concept of setting up library facilities within schools was born to allow as many children as possible to have access to reading materials.
Since 2006 when the project began, four library facilities have been set up in four public schools. The number of children scoring high grades has also improved with 125 former street children gaining admittance to good high schools. Greater interest has been shown from street children willing to abandon street life, if only they can be provided with alternatives like support for their parents, school uniforms, and writing and reading materials.
Between 2009 and 2013, over 1,200 children received high enough grades to go to the best high schools and get sponsorship. This is a huge improvement since previously these schools never sent any students to good high schools.
Future Developments
The community that the Watoto Wasomi Initiative operates in has no reading facilities. With a population of over 60,000 people, the project intends to create three community libraries to enable access to other children who are not served within the schools where those facilities have been set up. The Watoto Wasomi Initiative intends to create 10 libraries in 10 schools to improve performance.
April 26, 2012 (last update 12-30-2020)