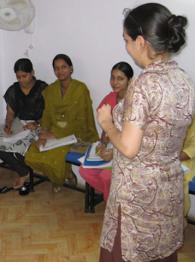 About the Project
This project is one of the 2010 WISE Awards finalists.
The NIIT Yuva Star project is designed to empower and mainstream India's marginalized youth (living in urban slums and rural areas) through communication and employability skills training. The goals are to improve the lives of the weaker sections of society through economic uplift and to make a significant contribution to reducing the wide gap between the huge number of unfilled jobs and the even greater skills shortfall in India.  
Solution and Impact 
NIIT Yuva Star training centers are set up in underserved communities to enable easy access, especially for female students. The cost of training is kept at a level students can afford. The key content – which covers life skills, English communication skills, basic ICT and service-sector-related skills – is delivered through a mix of self-paced modules, interactive online video sessions, interactive video exchanges among students, and formal classroom sessions. The use of technology not only lowers costs but also enhances the learning experience. The gap in operational costs is filled through philanthropic funding. 
Some of the key stakeholders are the state government, NGOs, retail and business processing outsourcing companies, and the community. The primary beneficiaries are the young people, who then impact their families and the community. 
Starting with one rural center in August 2007, the program has expanded to 24 centers, 22 of them in urban slums, in the Indian states of Delhi-NCR, Rajasthan and Madhya Pradesh. They have so far touched the lives of more than 5,000 young people. Over 75% of eligible students have been placed in jobs, while the rest continue to study.
April 26, 2010 (last update 12-23-2020)