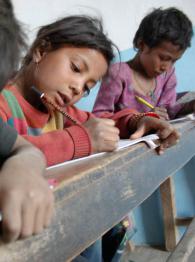 About the Project
This project is one of the 2012 WISE Awards finalists.
The Voluntary Service Overseas (VSO) Nepal Program is a four-year model for transforming education via inclusive multi-level support within school communities and across Nepal's education system. The aim is to increase the quality and inclusiveness of classroom learning, strengthen management systems within/between all levels of local school communities, and build role-model schools that can be replicated. VSO is approaching this through a gender-based theme and with an overall goal of integrating its livelihood and health programs within schools and the curriculum. 
Context and Issue 
In Nepal forty seven percent of Dalits or 'untouchables' live below the poverty line  and school dropout rates are high amongst Dalit children. VSO teaching and education volunteers in Nepal are placed at government schools across the country to ensure the most marginalized (often girls of a low status caste) receive an education that can help lift them out of the cycle of poverty. It has also helped teachers at transforming empty stone classroom walls into lively and fun learning environments, and encouraged teachers to use interactive teaching methods that stimulate the minds of their pupils. 
Solution and Impact 
Through volunteers sharing skills in six districts across Nepal, the main program objective is to increase the capacity of six district education authorities, and for 72 schools to successfully implement the government's School Sector Reform Plan (SSRP).
To date, across three districts, 785 students have been enrolled, with 633 out-of-reach children supported by 84 local Accelerated Learning Facilitators (ALFs) through bridge classes to "catch-up" before enrolling in a mainstream school program. None have dropped out once enrolled.
Inclusive classroom environments are now widespread (e.g. mixed seating), with disabled-friendly accessibility, and over 200 local teachers are producing low-cost/no-cost resources (e.g. bottle-cap counting tools). Teachers' capacity has been strengthened in developing effective teaching strategies, lesson planning and pro-positive relationships with students, while 37 head teachers now view themselves increasingly as "school improvement coordinators". There is increased parental awareness of the right to education, including improved skills in coordinating and managing SMCs across three DEO regions.
Future Developments 
With a mandate to specifically enroll, retain and provide quality education for marginalized girls, so-called low-caste children, and children with disabilities, its program aims to benefit 31,500 children in total, 9,900 of which are currently not enrolled in school, and 15,000 community members as supported by our implementing partners. It also aims to benefit over 600 educators and District Education Office (DEO) staff members, including 578 School Management Committee (SMC) members. 
April 26, 2012 (last update 12-30-2020)